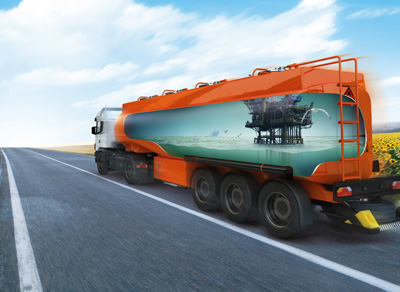 The group of companies BIEL-TRANS-EUROPE poses a good name in the market of vegetable oils and related liquid products. The group exports/imports vegetable oils all over the world. Equally important direction of the group activity is transportation of the bulk liquid cargoes by own tanker trucks over the countries of Europe and CIS. The company LLC Beltrans (Odessa, Ukraine) being one of the leading Ukrainian transporter which specializes on carrying the bulk liquids for more than 9 years belongs to the group BIEL-TRANS-EUROPE. The group also includes a company LLC ODYSSEY (Ukraine) and BIEL-TRANS-EUROPE Sp.z o.o. (Poland), that has become a flagman for their further development.
Rendering services on transportation of fluid cargo BIEL-TRANS-EUROPE group manages one of the most extensive fleets of specialized tanker trucks in volume from 25 cbm. with a loading capacity up to 45 tons for carrying the most wide range of liquid cargoes: edible oils, cognac alcohols, wine, wine materials, molasses, juices, dairy products, food and technical fats, fuels and lubricants (diesel fuel, gasoline, fuel oil, bitumen), chemicals (hydrate of sodium, glycerin, ammonia solutions, nitric acid) throughout Europe and CIS countries. All road tankers are certified according to the European norms and standards. Also it is possible to carry from 1 to 4 types of products in one tanker at the same time.
Filling and drain procedures are exercised by self-flowing or by a pump compressor. Tankers consist of the self-bearing frame installed on a three/four axial chassis and with wishbone suspension. Truck trailors of DAF or MAN types are equipped with ABS and state-of-the-art GPS navigation system that allows the customer to control the location of cargo at any time. This advantage guarantees saving of quality of carrying liquid products as state of products also depends on quality of transport services!
By the beginning of 2014 the bulk liquid fleet of BIEL-TRANS-EUROPE group numbers 71 specialized tankers. The group of companies BIEL-TRANS-EUROPE is a member of Association of the international automobile carriers (AsMAP). All potential of our team is focused to create the most favorable and comfortable conditions of transportation of different types of liquid products for their owners and producers.
About Us